Wow.
It has been a hot minute since I have done a Monthly Mayhem. But, as my recent post suggests, this is really what it is all about. Just a quick note, you may notice some changes around the blog... mostly because I can't remember where I stored anything...like color codes and watermark pictures (oops!). Also, since we have been together 3 years (that's insane, by the way!) I figured it is time to stop counting months. So, 3.0 for our anniversary month and next May will be 4.0 and so on... alright, now on to the good stuff.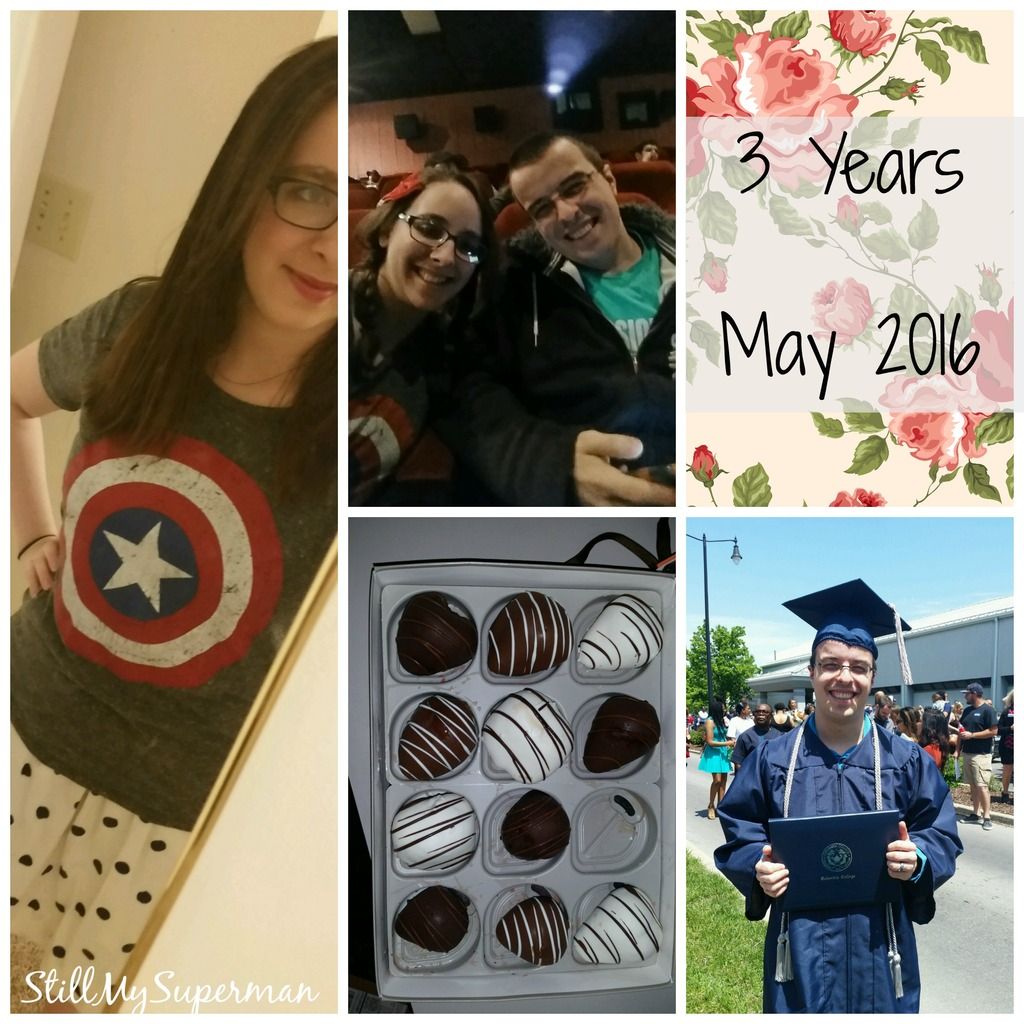 May was actually a pretty crazy month. We are both crazy busy at work as we head into the "busy season" of the mortgage industry. As an Account Manager 2 that equals a lot of overtime for me! He is still capped at 2 hours of overtime a week as a Credit Consultant... lucky ducky.
The biggest news this month is that John graduated! Wooohoo!!! The current plan does involve more school for him in the future, but for now, we will enjoy the break that this provides. Oh yeah, and he graduated with a 4.0 GPA!
But... before graduation commenced we of course had to go see Captain America: Civil War the opening day. Made for a bit of a busy weekend but it was so worth it. I can't get over how much I loved this movie. Captain America is my all time favorite super hero.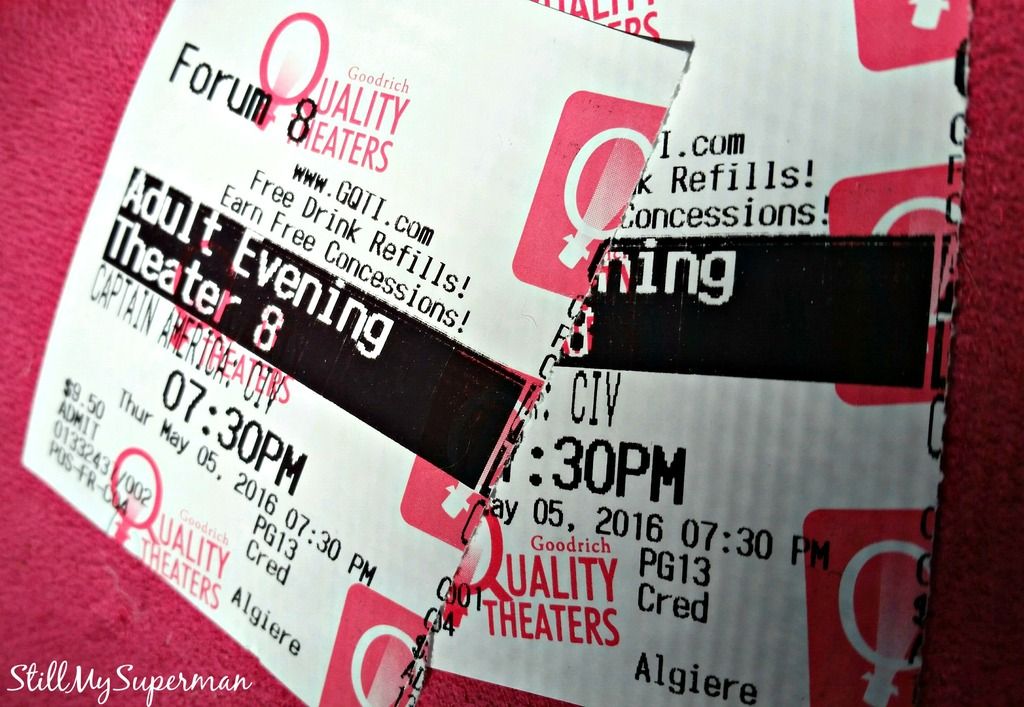 Which would explain why even though I got the Captain America shirt you see in the collage for my birthday in April, I have already worn it at least 5 times. I literally have to force myself not to wear it every day. Thanks Kohls!
John and I have also really gotten into puzzles recently. Actually, what happened is that I was cleaning our extra bedroom and I found a puzzle that I had bought for him while we were dating. I was tired of it just sitting in the closet so I said, hey lets put this together.... and now it is hanging up in our bedroom! We decided if we were going to spend a lot of time and effort on a puzzle we weren't just going to put it back in the box!
Which also lead to our next puzzle... we were looking up puzzles on Amazon that we could frame when completed and we came across this gorgeous Thomas Kinkade puzzle. We finally finished it but can I just say going from a 750 piece puzzle to a 1500 piece puzzle is not the best idea in the world?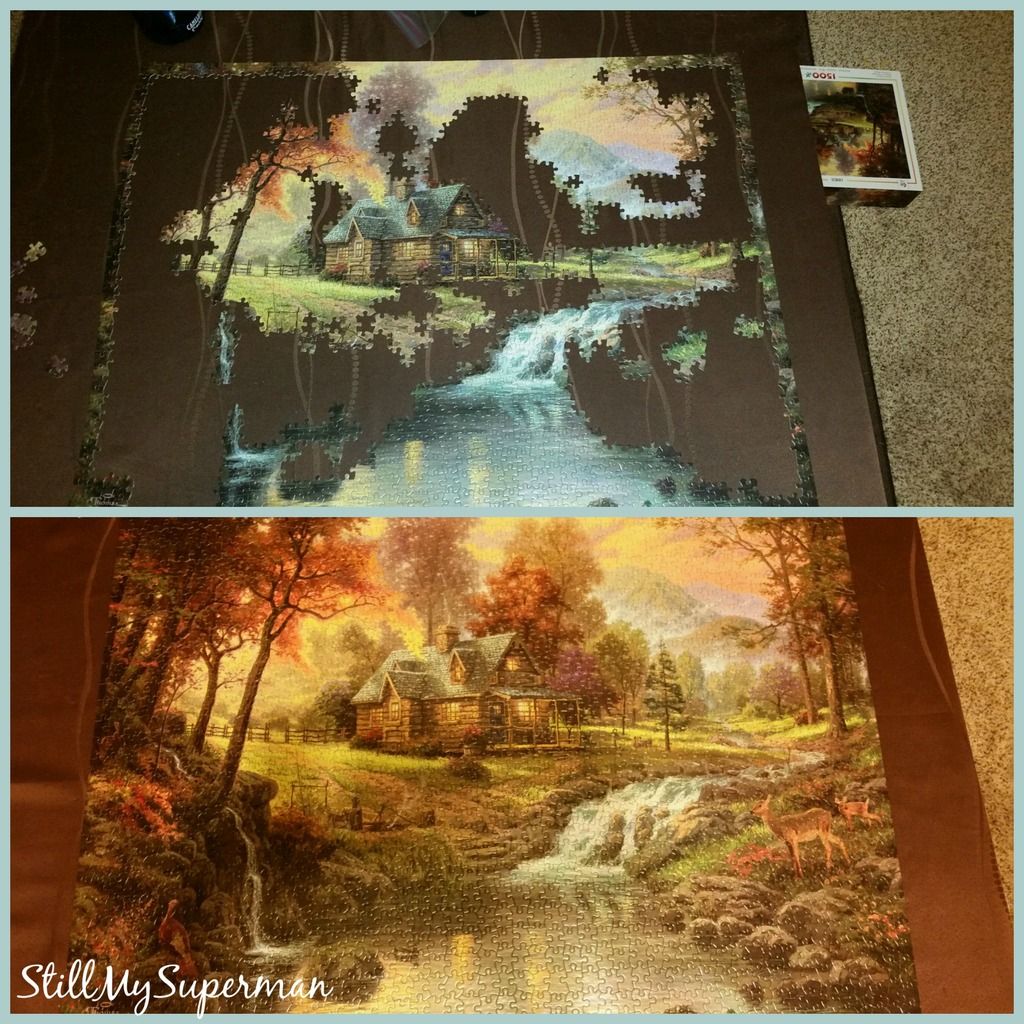 Despite the fact that it took ages to complete and it was pretty difficult (John has sworn of Thomas Kinkade puzzles indefinitely) I am so happy with how it turned out. It is now hanging up in our kitchen and I love it.
Is it weird to have your house decorated in puzzles? I hope not because.... that's the plan.
Personal Accomplishments this month:
I finished Personal Progress as a leader.
I also made this Batman Cup Cozy for a friend. I actually (sort of?) came up with the pattern myself by using a perler bead pattern for the bat signal and modifying a cup cozy pattern.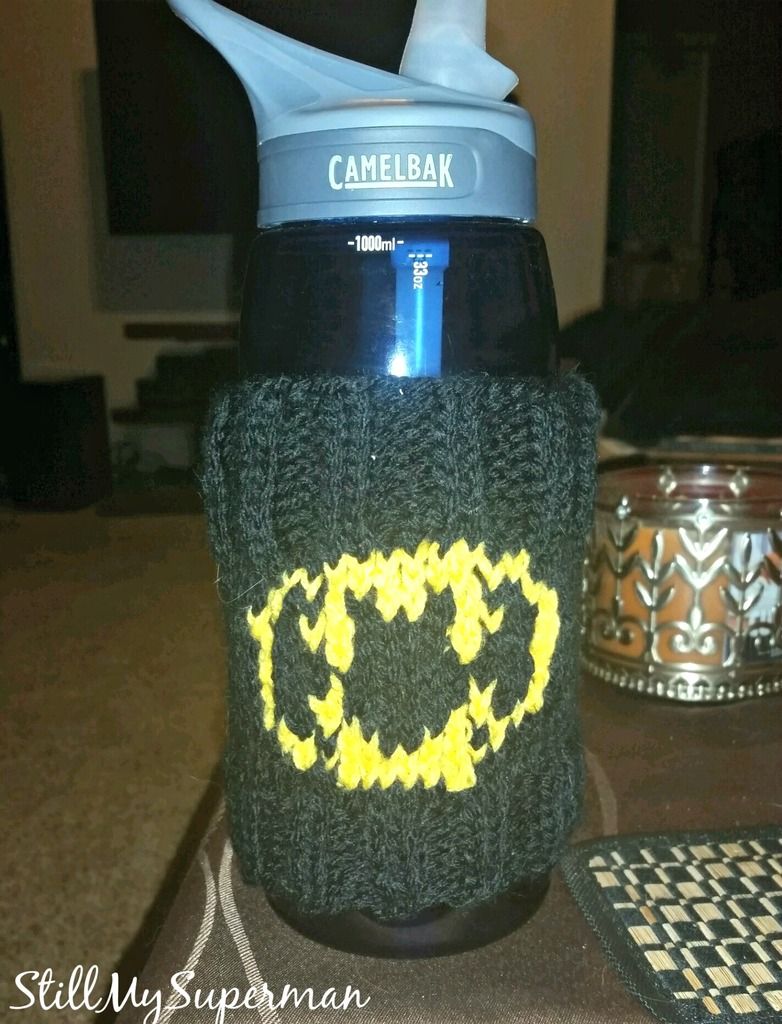 As it is our anniversary month... and I haven't done one of these since 2014 (seriously??) I'd like to take a look back at the 3rd year. A lot has changed. I feel that John and I have both grown immensely and I am really proud of the people we have become. I am extremely lucky to have John for a husband, I am not a mother but he had chocolate covered strawberries delivered to me at work since I will be a future mother someday. How sweet??I want to continue to grow... I know I for one have a lot to work on but, I am excited to be able to do it with my best friend at my side.