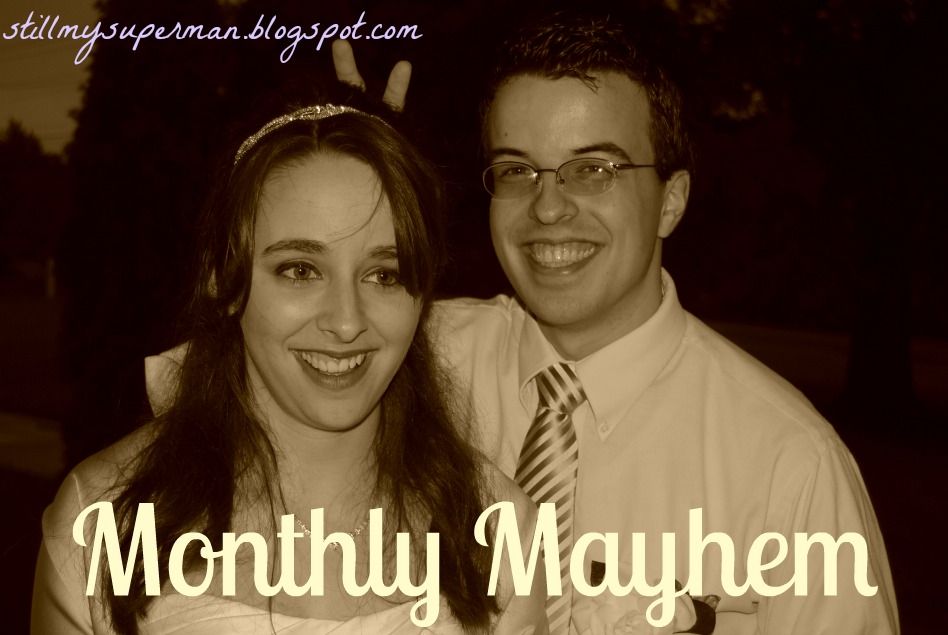 John and I have made it through an entire year of being married! A lot has happened this year... I invite you to stroll down memory lane and take a look at all the Monthly Mayhem's that led up to this.
This month we finished school for the summer, and John is searching high and low for an
internship
for the summer session.
We were able to attend our friends wedding reception, which was awesome. I even got to dance a little. I cannot tell you how much I miss swing dancing! If any body knows of a cheap/free place to swing dance in Columbia let me know!
John continued to have health issues this month. So much so that he had to get a colonoscopy. While that was no fun, we are glad that he had that procedure because the doctor found something that could have been life threatening down the road! We think we have finally figured out what was causing him so much pain and he is on so
me medicine that should make him feel better. Just no highly acidic foods until it's over!
We had the pleasure of attending two barbecues over Memorial Day weekend. One with John's work friends, and one with church friends. I got a little emotional thinking of all of the men and women who have died to keep us safe and free.
We celebrated our one year anniversary by getting sealed in the St.Louis temple and then going to The Melting Pot. All in all, it was a pretty spectacular day and made me remember how much I really do love my husband.